While we don't often talk about South Korea, South Korean citizenship is one you may want to consider.
South Korea, while a bit of a mystery to Westerners, has been an amazing success story. I frequently talk about how momentum is an important factor to consider when choosing a country in which to plant a flag. And South Korea has quite the tale when it comes to momentum.
Not long ago, South Korea was a migrant country. Like the Philippines today, they sent farmers, miners, and domestic helpers overseas to do jobs where demand exceeded supply.
Today, of course, South Korea is one of the wealthiest countries in Asia and exports, not workers, but well-respected goods such as Samsung electronics and Hyundai and Kia vehicles to the rest of the world.
Just fifteen years ago, there were only a few hundred thousand expats in all of South Korea. Today, that number is well north of one million. Most Western expats live here among the nearly twelve million people who populate Seoul.
And, while you may not have considered a North Asian country in your plans for your second residence or second passport, South Korea does offer the opportunity for you to get a South Korea residence permit and permanent residency that can possibly lead to South Korean citizenship if you're willing to invest in a local Korean business.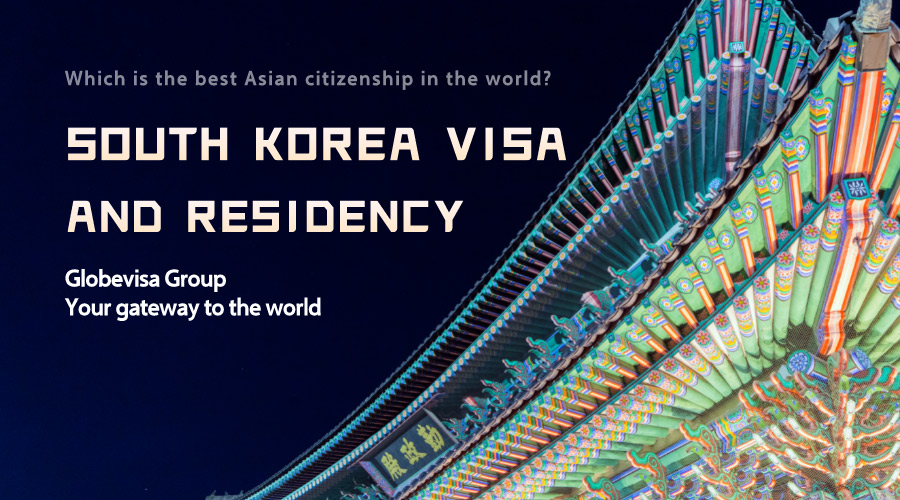 SOUTH KOREA VISA AND RESIDENCY
Getting a South Korea visa used to be rather easy. Not that many years ago, it was possible to come in with as little as 25 million won (US$22,000 in today's dollars), claim to set up a business, withdraw the money, and live in South Korea indefinitely.
Eventually, the authorities wised up and increased the minimum deposit to $50,000, and then $100,000. There have been rumors that it would continue to increase significantly due to government dissatisfaction with the way people were getting South Korean visas and not contributing to the economy.
Today, you can get a South Korean investor visa if you're willing to bring capital with you, but you have to actually generate some profit or show economic activity.
There are a few main options for getting a residency in South Korea. You can start a business, invest in a business, invest in real estate, or invest in a government fund to get South Korean residency. South Korea does not have a citizenship by investment program, but investing can lead to permanent residency.
You need to invest 100 million Korean won, which would be around $100,000 USD, into your own company. If you invest in someone else's company, it will cost around 300 million Korean won, around $270,000 USD.
Here's how it works:
South Korea issues D-8 investor visas to those willing to invest 300 million won — roughly US$282,000 — in their own small business in South Korea. You will have to show that the business is viable when you renew the South Korea visa, or you may be denied renewal.
The South Korean investor visa is really a hybrid of the typical entrepreneur visa that encourages innovators to bring their talents to a new country and a South Korean investor visa that seeks to bring capital into the country.
If you have a great new idea for a biotech company that will change the world, the requirements in countries like Hong Kong, Singapore, or even Japan will be lower. Countries are competing for ideas that could give them added business clout.
If, however, you want to start a restaurant or some form of a lifestyle business, South Korea might be an attractive option, especially if you enjoy the country's lifestyle. Because South Korea puts an actual dollar amount (and few other restrictions) on getting a D-8 visa, you don't have to have an earth-moving idea.
While I've been told by friends of mine in the business that the Singapore government likes high-end restaurant concepts as business plans, you'll need more capital to immigrate to Singapore on such a business plan than someone who has the next hot software company.
You can get a South Korean visa by working for a foreign investment company. You can do this if you are considered an indispensable skilled worker and plan to work in management, administration, production, or technology in a new Korean foreign investment corporation. You'll also need to own at least 10% of the company's capital stocks, voting rights, or shares.
You can also get residency by investing 500 million Korean won into South Korean real estate, which is around $450,000 USD.
If you want to get residency through investing in government bonds, you'll need to invest 500 million Korean won and hold the South Korean government bonds without interest for five years.
SOUTH KOREAN CITIZENSHIP
It is possible to become a naturalized citizen of South Korea if you maintain an actual residence. There are three paths to citizenship through naturalization, but the most typical way for a foreigner to get South Korean citizenship is through "general naturalization."
Under this process, you must have lived in South Korea for five consecutive years and have spent at least 183 days each year in South Korea and pass a test on Korean culture and history, and the Korean language.
While there are always cracks in the system in these cases, South Korea isn't some corrupt banana republic where you can pay the immigration official five thousand won and get by with no knowledge of Korean.
It's possible to get your citizenship here earlier, but you have to have been married to a South Korean national for at least two years.
South Korean citizenship is one of the best in the world. A South Korean passport can take you almost anywhere in the world. However, anecdotally South Korea does not typically allow dual citizenship. To get South Korean citizenship, you may need to renounce your other citizenship(s).
However, the dual citizenship law in South Korea was recently amended to modify the potential for holding dual citizenship. In light of this, most foreigners will not need to renounce their existing nationality if they become South Korean citizens.
The cost of a South Korea visa is understandably expensive, especially considering that many Chinese and other nearby nationalities call Korea home. This is a developed, wealthy country and you can't get permanent residence on the cheap.
Similarly, South Korea is not a tax haven for corporations. There's a ten percent minimum corporate tax, and a graduated system that peaks in the mid-twenties.
And, in case you're looking for fun in the sun, South Korea isn't for you. You'll need to spend the majority of each year here, and that will include what locals tell me is the ever-encroaching winter season. I had to bundle up quite a bit for a few days and it was still cold.
Still, if you're looking for a "first world" Asian passport, that might just be a perfect choice you're willing to chose.
Getting in touch with US. Globevisa Group always be there for your life choices.