Canada, as the second largest country in the world, is well-known for its social security, justice and peace, and has been voted as one of the most habitable country in the world for many years, it is also the dream destination of countless immigrants. Among existing immigration paths in Canada, the New Brunswick Provincial Nominee Program (NB PNP) Entrepreneurial Stream is an economical immigration program for experienced entrepreneurs who are ready to establish, operate and actively manage a business while living and settling in New Brunswick. Unlike programs in other Canadian provinces where applicants apply for a work permit in the first step, NB PNP is currently the only immigration route that directly leads to Canadian permanent residency (PR). Its application process is a lot different than other entrepreneur programs in Canada, as applicants will be granted with PR before officially setting up their business, so the applicant's current work and life will not be delayed during the entire application period.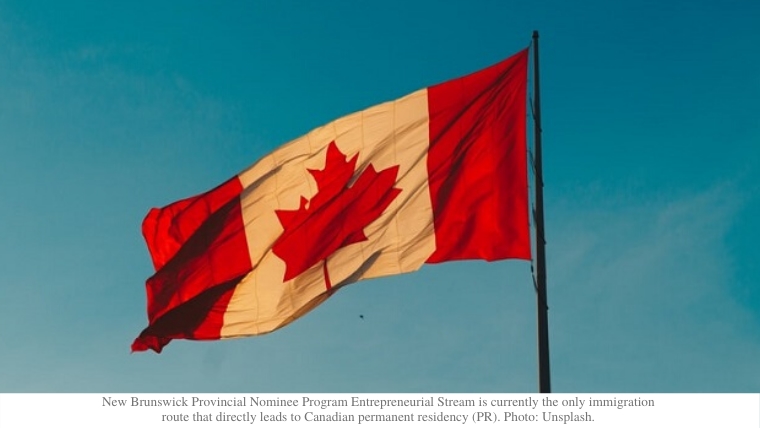 The total processing time for this program is about 2 to 2.5 years. In addition, its investment requirements are relatively low compared with other Canadian programs. The program requires applicants with a verifiable personal net worth of at least CAD $600,000, of which CAD $300,000 must be liquid and unencumbered funds. Applicants have to invest at least $250,000 CAD of their own funds to establish a business in NB, which is much less than the required amount of investment of Quebec Immigrant Investment Program.
Here is a recent success case from Globevisa. This client is 43 years old with a Master's degree. He has been working in finance field since graduation with 10 years of senior management experience, currently serving as the CEO of an international food chain in Indonesia. After an in-depth consultation with Globevisa's professional immigration consultant, the client expressed his hope about getting Canadian PR in the shortest period of time. Globevisa suggested the client to take an IELTS test in order to get a higher EOI (Expression of Interest) score. Eventually, he received an average IELTS score of 7.5.
In order to raise the client's EOI score, Globevisa arranged a five-day business investigation visit and provided local reception services. The visit was mainly divided into two aspects: business inspection and living environment inspection. Business inspection includes visiting government agencies, participating in government meetings, meeting relevant professional (such as bankers, accountants, etc.), inspecting related peers (such as similar restaurants, chain restaurants, etc.), suppliers, and so on. The living environment inspection is mainly to acquaint with the local living condition, urban scenery. Through this inspection, the client can have a well-round understanding of NB. More importantly, he has established a connection with NB Province, thereby meeting the requirements for applying for NB PNP. After many consultation sessions with lawyers and on-site inspections, combined with the client's own idea, Globevisa helped the client set the goal of opening an Indian-style restaurant in Fredericton. Finally, the client had an EOI score of 83 for submission.
In the preparation of business plan, Globevisa provides professional advice based on the client's personal background and ideas, in order to help the client successfully immigrate to Canada while doing what he really likes. As Globevisa cooperates with many professional law firms, our attorneys are all senior lawyers in the field of Provincial Nominee Program. They have extensive experience in this program, and write the summary of business plan with high quality, effectively increasing the success rate for applicants. Under the arrangement of Globevisa, the client's EOI was submitted on November 5, 2019, and was selected in less than a day and successfully received the Invitation to Apply (ITA).
After receiving the ITA, the client entered the official application period. This stage includes document submission, and additional document as government requests, which are produced by Globevisa's experienced and professional team. Notarization and evaluation of all documents is completed with appointed institutions. At the same time, in order to prepare for the subsequent interview, Globevisa provides the client with the most comprehensive guide. In February 2020, the client has completed all submissions of the application and additional evidence and information via request, successfully received the application approval. After transferring CAD 100,000 deposit, the client will receive the Nomination Letter.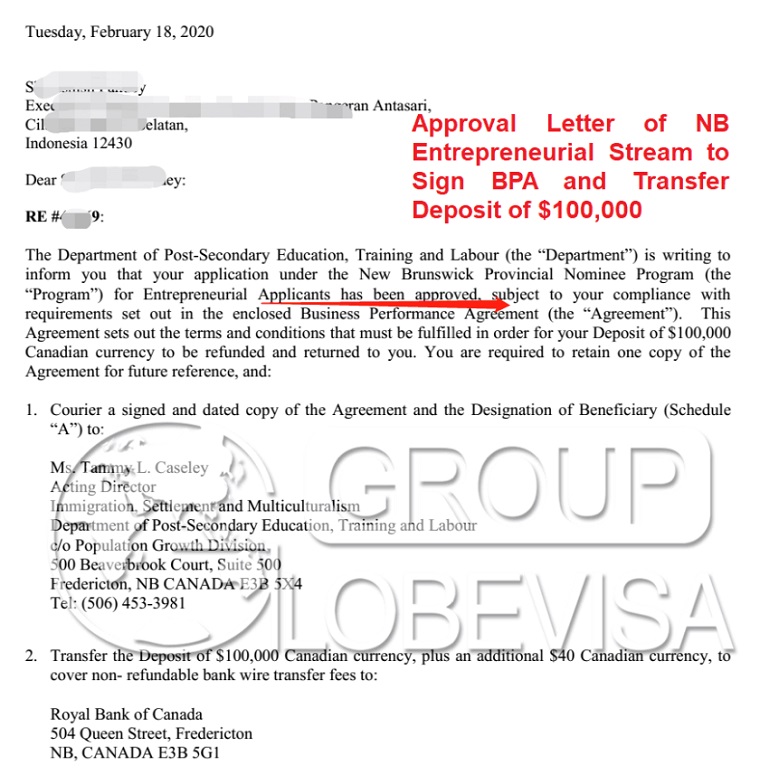 The final stage is the federal application period, during which the client only needs to wait for the final notice from the government and complete the medical exam and no criminal record proof. The client expects to collect his Canadian PR in the end of 2020, as the final stage usually takes about 10-12 months.
For those applicants who qualify for the New Brunswick Provincial Nominee Program, people should prepare and submit their applications as early as possible. As the most professional migration agent, Globevisa stands ready to provide you with the most constructive advice and the most comprehensive services.
Globevisa has more than 300 projects, including more than 20 projects in Canada alone. Since the establishment of Globevisa, various types of Canadian immigration programs have been processed. Over the past decade, we have been handling numerous cases and has successfully helped a lot of families immigrate to Canada. Globevisa has the ability to provide a full range of services to the applicants in Canada, as we have offices in Vancouver, Toronto and Montreal.
In addition, one of the most prominent points of Globevisa is that it implements a Triple Reviews System (TRS). In Globevisa, before submission of immigration cases, documents are checked first by the program manager, then the program director and finally our legal team respectively, guaranteeing the high success rate of application. And our case managers will provide applicants with comprehensive guidance from early document collection, to program plan design, to matters needing attention after submission.