Vanuatu Development Support Program, also known as Vanuatu Citizenship by Investment Program, is the most frequent immigration route in Vanuatu. This program offers the fastest legitimate access to Vanuatu citizenship with an average processing time of 45 days, and it allows applicants to obtain a Commonwealth passport. Passport holders can enter 141 countries and regions visa-free. Obtaining a Vanuatu passport thus facilitates immigration planning, overseas assets management and global travelling.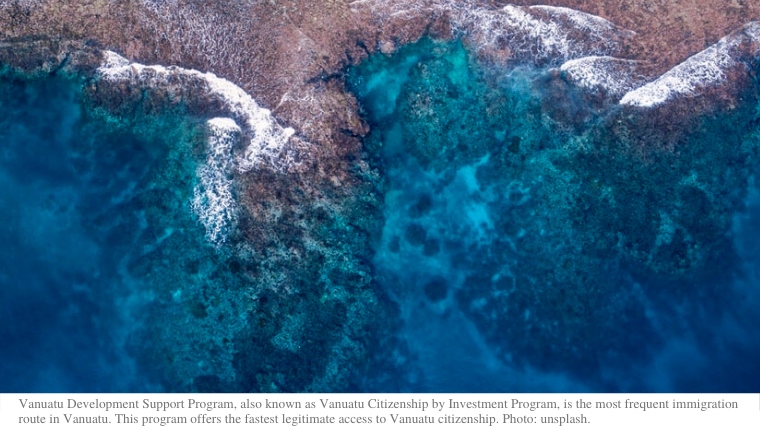 Vanuatu is a tax haven situated in the Southeast of Australia. There is no personal income tax, corporate income tax, enterprise value-added tax, etc. Taxes will not be imposed on citizens' income, interest, gifts, property and inheritance outside the local area. Its document requirement is simple, and the application conditions are very favorable. There are no requirements such as language skill, education background, managerial experience, etc. Neither immigration supervision nor physical examination is required, with considerable background check requirements, so the preparations in the early stage are easy to complete.
The Vanuatu passport application process and procedures are fast and convenient, taking an average of 45 days (in the fastest case, our client collects his Vanuatu passport within 24 days starting from signing the service agreement with Globevisa). Not only that, it is also very cost effective. The main applicant can also bring along his/her children and parents of both spouses in one application.
With the abundant experience and the highest market share (Globevisa has a market share of more than 80%, ranking first in the industry), Globevisa has maintained a good partnership with officially designated partners of the Vanuatu Passport project, with a success rate of 100%.
Customers who choose to apply for a visa in Globevisa can enjoy the advice of senior professional consultants, and we have the strongest lawyer and document handling team to deal with clients' profile for application, providing them with one-to-one customer service and the most comprehensive guidance.
The greatest value of applying for a Vanuatu passport at Globevisa is that we are the only service provider that can provide clients with 12 follow-up items in addition to the passport itself, including Citizen Family Reunification, Passport Renewal, Certificate of No Criminal Conviction, Citizen Name Changing, Marriage, Birth Certificate, Personal Bank Account Opening, Corporate Bank Account Opening, Company Registration and so on, which completely meet with various needs of clients.