On May 8, 2020, GLOBEVISA received a Certificate of Appreciation. In this certificate, GLOBEVISA was awarded as the most recognized partner for the MONTENEGRO CITIZENSHIP INVESTMENT PROGRAM, and the best performer with highest market share in promotion and numbers of applications submitted to the government.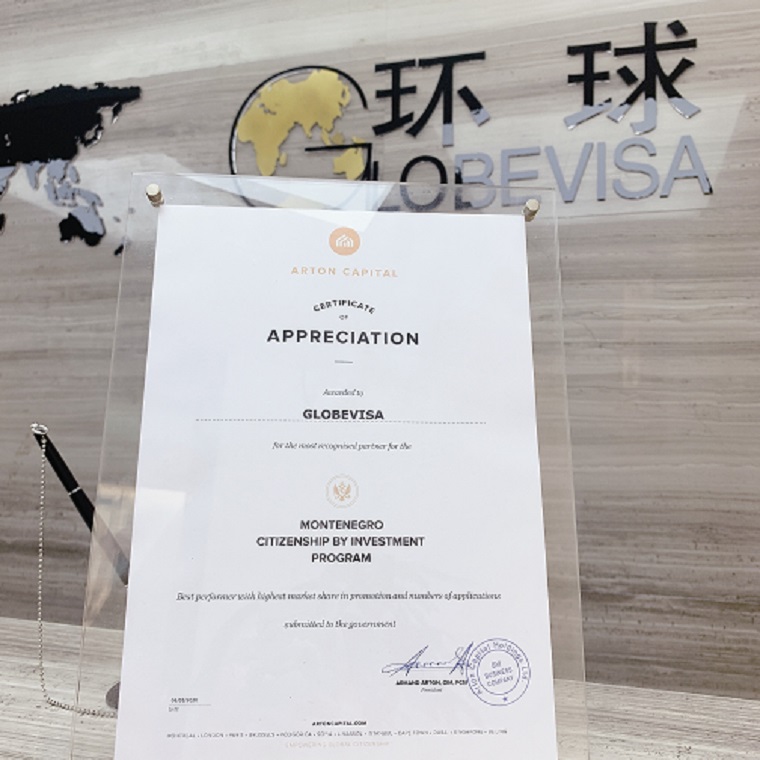 As one of the fastest growing economies in the Balkans, Montenegro is quickly becoming a key destination for investors seeking mobility, security, and increased quality of life. Through the Montenegro Citizenship Investment Program, applicants can obtain citizenship in about 6 months. Dependents under 18 years of age are also granted citizenship with main applicants. No language requirement and no obligation to relinquish current nationality. Montenegro is a member of NATO, passport holders can enter visa-free 116 nations. It is also expected to become a candidate country for future expansion of the EU by 2025. In addition, Montenegro and the United States have signed the E-2 Treaty Program, which allows citizens of Montenegro to reside and work in the U.S. under an E-2 Investor Visa.
As one of the first agencies partnering up with Montenegro local lawyer who is involved in the creation of the act for this citizenship investment program, GLOBEVISA maintains a good relationship with the government to ensure that clients obtain the latest news and the highest success rate possible. Choose GLOBEVISA to help your immigrant dream come true!