Australia, the name at once conjures up the image of a highly developed country inhabited by a progressive and healthy society consisting of people from almost all nations of the world. There are numerous benefits of immigrate to Australia which attracts the people from all over the world to make Australia their's home. Also known as Down Under, and one of the leading immigration hot spot Australia is made up of individuals from nearly 200 nations, forming a society with diverse social, linguistic, and cultural skills.
Australia with its culturally diverse society and rapidly developing economy proffers opportunity to all those who wish to move and reside on its soils. At the present, close-to 22 million people stay in Australia even while the population is heading north continuously.
About a quarter, or 25% of the Australian population, consists of the non Australian citizens even as the same proves the Australia's gigantic immigration rate. The key factor behind this can be justified by understanding the many benefits of Immigration to Australia.
To begin with, the nation has a successful, tried, and trusted immigration strategy and well laid-out and easy-to-follow immigration schemes. Australia is a rather attractive immigration hot spot for business development and growth in the 21st Century. Thanks to the presence of massive natural resources and continuously developing economy, the country is a wonderful place for ambitious Businessmen and Investors.
Australian immigration department (DIBP) offers an opportunity to qualified and gifted people to work or settle within the nation by carrying-out a point test. Successful businessmen can either make an investment in an existing company or set-up their own venture in the country and gain benefits from the nation's thriving and stable economy.
Australia requires more trained manpower to back and grow its development process and for the same the DIBP has made some of the most easy and hassle-free immigration policies for trained work force that one may come across anywhere. Employees with a valid offer of job can be sponsored by their recruiters even as the same tremendously simplifies the permit sanction.
There are numerous social benefits of immigration to Australia. The nation is strikingly attractive with a migrant friendly society. It boasts of first-class education and health systems, and Canberra offers significant funding to these fields. Australia has political stability and is one of the globe's most attractive destinations for good quality of life.
Environmental Advantages of Migration to Australia comprise the presence of numerous climatic zones. Australia extends from the tropical far-north to the cool temperate climate of the south. The residents can get pleasure from different climates by traveling inside the nation's boundaries.
Australia runs and manages a wide range of leisure activities and fun destinations. The citizens take pleasure in playing several varieties of sports. Apart from this, Australia has many natural wonders in the form of stunning beautiful beaches, exotic national parks, etc.
Australia offers high living standards to its people. To smoothly cover large distances between its far-flung cities, the nation runs and manages efficient and quick transport facilities. All leading Australian cities are very well connected, via perfectly planned transport routes. People can freely and easily travel across the nation. For those who are fond of good food, Australia provides superlative restaurants with huge range of choices from across the globe.
Coming back to the issue of the benefits of Australia PR, the nation provides high standard and rationally priced accommodation, vis-à-vis other countries. Australia offers unhindered work rights to the partners of qualified sponsored manpower with both temporary and permanent entry permits. No restriction whatsoever exists on the number of visas that can be given to the gazette professionals and other trained aliens employing the well-known temporary entry scheme.
Australia has more supple and smooth temporary entry provisions, in relation to other immigration destinations. Post gaining a temporary visa and residing in the country for some time, it becomes rather easier for a candidate to gain permanent residency permit in Australia.
Advantages of the Immigration to Australia!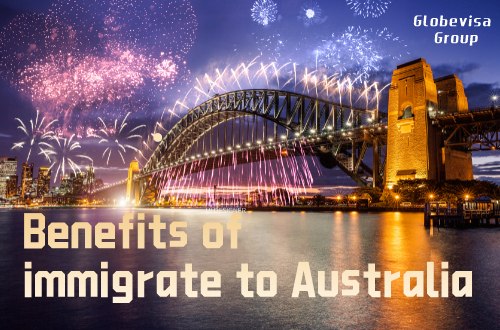 Entrepreneurs, and pleasure seekers each one of them are greeted with many benefits of Australia PR. Australia provides high quality lifestyle and lodging to the aliens. Opportunity seekers interested in pursuing higher studies find Australia to be the most suitable & viable immigration hot spot.
Flexible, Easy-to-follow Immigration Laws
Australia actively welcomes migrants who have the necessary job expertise to fill its many vacancies in the labor force and add to the nation's economic success. Remarkably, more than 8 out of every 10 migrants who have investment permits manage to obtain a well-gaining businesses within just few months of landing in the nation.
Wonderful Geographical Surroundings
Australia boasts of an unmatched natural beauty even as it has several species of plants and animals which are exclusively native to its soil. Australia's round-the-year warm weather makes it just an ideal destination for outdoor culture. It amply gets reflected in the lively lifestyle of its inhabitants. Migrants, eager to live a full life, find Australia just ideal for the same. Australia also possesses some of the globe's most stunning wilderness areas with some of them being designated national parks.
Amazing Culture
For the culture conscious visitors, again not many countries can really match the unrivaled charm of Australia which is essentially an immigrant-friendly country. The country boasts of a rich kaleidoscope of arts, culture, with theater, concerts, art exhibits, films and cultural carnivals being some of the regular activities. Further boosting the immigration destination's appeal is the fact that it offers some of the best wine and food in the world. And its quality, and the rich cultural diversity of its populace, amply shines through its many world renowned eateries and restaurants, well situated throughout the nation's length and breadth.
High Living Standards
The standard of living in Australia, by and large, is comparatively higher, vis-à-vis other countries of the globe. Australia boasts of one of the most flourishing economies across the world. This economic growth is also well reflected in its people's lifestyle. The Australian cities of Melbourne and Sydney have an eclectic and pulsating lifestyle.
Standard of living of a country is reviewed chiefly by three factors: its resources, well being of the population, and standard of living. The educational facilities and the health services offered by Australia to its people are one of the finest that one gets to see anywhere in the world. The World Health Organization (WHO) also certifies Australia for having a very low crime rate, as compared to most other nations.
Australia also boasts of a housing facilities which is of a better standard. Still, pretty inexpensive when one compares it against other leading immigration destinations. Australia's schools, hospitals, and public transport clearly reveal the amazingly high standard of living for those residing in the nation.
Before planning to move to the nation, discover if you are, in reality, qualified. You can do the same, via filling an Online Immigration Assessment Form for Australia investment schemes which are 188A, 188B, 188C.
Even if you seek more information about immigrating to Australia you can contact with one of the most experience immigration consultants will get in touch with you to help you out with your questions and concerns or you can also choose to directly interact with the expert through our Live Chat window.